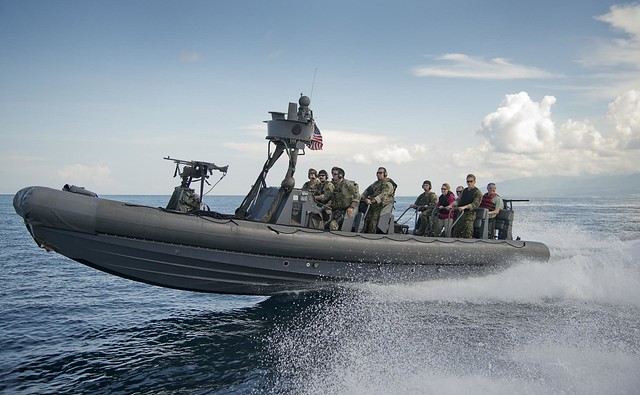 As luck would have it I joined the Special Boat Unit 20 reserve unit at exactly the right time in my life. Still in my early thirties, in a bad marriage that would not last much longer and about to be a single parent. I got a look into the ethos of Naval Special Warfare. And latched onto it. When life seemed tough I compared it to going through Basic Underwater Demolition / Seal school and it didn't seem so bad after all. 
At first the idea of running five miles seemed ludicrous to me, but after awhile I was running 10K's on a whim. If you tell yourself you can not do something, of course you will never do it. If you get in there and try, you at least have a chance of doing whatever it is. I was never a Wanna Be Seal. I was a Wanna Be Dirty Boat Guy, or SWCC. The Navy's best kept secret of Operators. I signed of a lot of the PQS but when push came to shove being a dad and a singer songwriter were higher on my list of priorities and I backed out.
I was never really a Blue Water Sailor. Amazingly enough I fit right in with the unconventional folks in NSW. That community is pretty much the opposite of Big Navy. The bureaucracy is still there, just not on the same level. I never tired of watching the conventional officers squirm in this environment. It must have turned their worlds upside down.   
Being in the Navy did not make me unconventional. I was already an independently minded creative wierdo. It just made me better at it. So now here I am, loving life and enjoying my very elaborate hobby with what little time and energy I have left over after getting up and going out to "Raise Capitol" every day! 
My first single is out there today! The first waffle off the iron. This is a learning process and I am learning plenty. I have no idea where to start making a lyric video so that task is getting farmed out. I will be back soon with the last keyword. Fun!